Our lunch forums are casual gatherings organized by medical faculty and students with the purpose of providing networking opportunities and a forum for discussing topics of interest.
If you would like to speak at a lunch forum contact us.
Your participation keeps our program strong and vibrant!


Date:
May 9, 2012 (Wed)
Time:
12:15-12:30 Lecture and Q & A
12:30-1 pm Social time
BYOL (bring your own lunch)
Language: English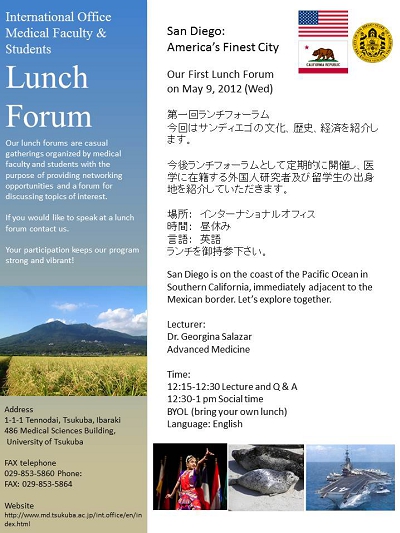 English as a global social phenomenon.
What roles does English have in your country and in the world?
What is the condition of English in your country and the world?
Should we try to speak international English?
Does international English exist?

Discussion leader: Brian Purdue
Date:May 16, 2012 (Wed)
Time:
12:15-12:30 Lecture and Q & A
12:30-1 pm Social time
BYOL (bring your own lunch)
Language: English