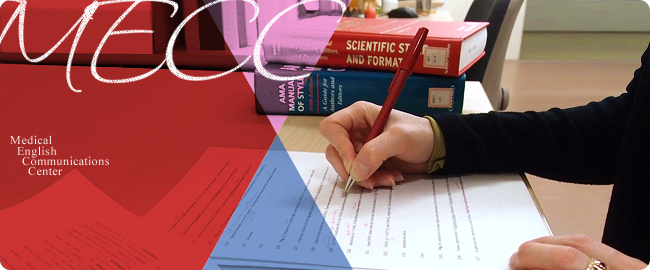 MEDICAL ENGLISH COMMUNICATIONS CENTER (MECC)
Proficiency in English is a must for scientists today. Without it, chances are high they will not gain the international recognition their work deserves and will be unable to participate fully in the sharing of ideas and cutting-edge information with other scientists. At the Medical English Communications Center, we help students and staff of the Medical Faculty to become proficient science communicators by providing editing and other English-langage support services. The services we offer include the following:
Manuscript editing
Slides editing
Poster editing
Rehearsals for oral presentations
English conversation for teaching staff
We also have a repository of biomedical dictionaries and books on scientific writing and English as a second language.
Manuscripts edited by us have been published in journals such as Molecular Cell, The Journal of Immunology, International Journal of Cancer, Journal of the American Academy of Dermatology, Biochemical and Biophysical Research Communications, Journal of Surgical Research, Journal of Plastic, Reconstructive and Aesthetic Surgery, International Journal of Hematology, Dermatologic Surgery, European Journal of Dermatology, Journal of Orthopaedic Research, The Journal of Biological Chemistry, Experimental Physiology, Medical Oncology, and The Journal of Kampo, Acupuncture and Integrative Medicine.