Educational content of the IPE program
First year, Early Exposure
| | |
| --- | --- |
| Names of Programs | Purposes |
| Communication Training | To learn communication skills necessary to establish relationships with patients and members of the medical team |
| Experiencing Old Age, Pregnancy | To learn the importance of daily life care from the standpoints of older adults and pregnant women |
| Hospital Ward Visit | To learn the work procedures in a hospital ward while communicating with patients |
| Inpatient Experience | To understand the feelings of inpatients and learn the roles of health professionals in the hospital ward from the standpoint of a patient |
| Outpatient Escort Program | To learn the system of a hospital and the roles of various health care professionals in outpatient services from the viewpoint of a patient |
| Community Health and Welfare Institution Visit | Experience the work of a variety of care workers in local facilities |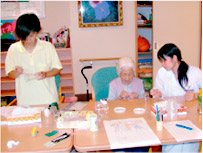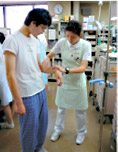 Second year, Home Medical Care Course
 PBL tutorial of patient care and family support using examples of home medical care
Third year, Care Colloquium(Teamwork Training Course)
 The Care Colloquium (Teamwork Training Course) is a joint program of the three schools: simulated care conferences and discussions in small interprofessional groups consisting of students of the Schools of Medicine, Nursing, and Medical Science.The objective of which is to learn the importance of interprofessional collaboration to provide quality care.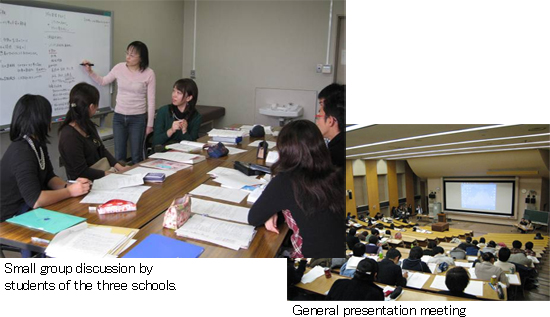 Four year, Experience of Other Medical Profession's Work
 Students experience the work of a nurse, pharmacist, medical technologist, and other specialists in Tsukuba University Hospital.
Fifth year, Community Based Medicine Clerkship
 Students learn the characteristics of interprofessional care provided in the community, including local clinics, hospitals, and home care.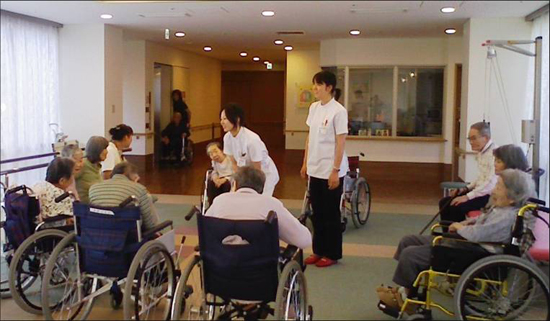 Efficacy of the IPE program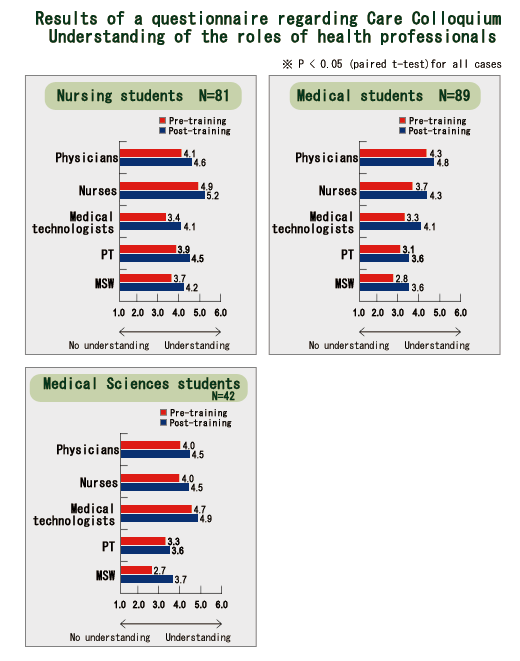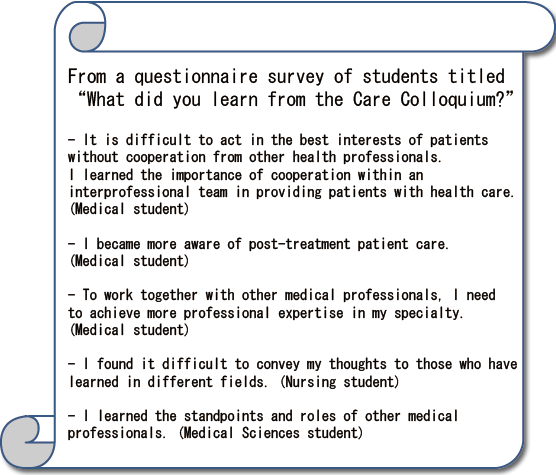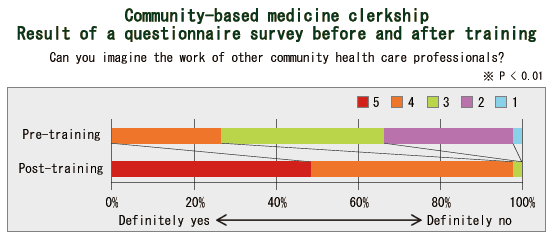 ページトップへ