Irie Lab: Laboratory of Molecular Cell Biology, Faculty of Medicine, University of Tsukuba
Principal Investigator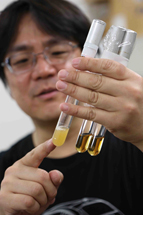 Kenji IRIE
E-mail address: kirie@md.tsukuba.ac.jp
URL: http://www.md.tsukuba.ac.jp/basic-med/molcellbiol/irie.html
http://trios.tsukuba.ac.jp/en/researcher/0000001628
Other Faculty Members
Assistant Professor Tomoaki Mizuno: mizuno@md.tsukuba.ac.jp
URL: http://trios.tsukuba.ac.jp/en/researcher/0000002377
Assistant Professor Yasuyuki Suda: ysuda@md.tsukuba.ac.jp
URL: http://trios.tsukuba.ac.jp/en/researcher/0000003522
Major Scientific Interests of the Group
Post-transcriptional regulation of gene expression by RNA-binding proteins
Molecular mechanism of mRNA localization and local translation regulating cell polarity, asymmetric cell division, and cell-fate
Regulation of myogenic differentiation by RNA-binding protein
Regulation of the endoplasmic reticulum stress response by protein kinases
Projects for Regular Students in Doctoral or Master's Programs
1) Post-transcriptional regulation of gene expression by Khd1, Ccr4, and Pbp1 in yeast.
2) Stability control of MTL1 mRNA by the RNA-binding protein Khd1 in yeast.
3) Stau1 negatively regulates myogenic differentiation in C2C12 cells.
4) Regulation of the endoplasmic reticulum stress response by protein kinases
Study Programs for Short Stay Students (one week ~ one trimester)
1) Yeast genetic approaches including the isolation and characterization of mutants, tetrad analysis, complementation, and mitotic recombination.
2) Molecular genetic techniques including yeast transformation, gene knockout, and generation of mutations in cloned genes.
3) Imaging yeast cells using indirect immunofluorescence and GFP-protein fusions.
Recent Publications
1) Enhancement of protein production via the strong DIT1 terminator and two RNA-binding proteins in Saccharomyces cerevisiae. Ito Y, Kitagawa T, Yamanishi M, Katahira S, Izawa S, Irie K, Furutani-Seiki M, Matsuyama T. Sci Rep. 2016 Nov 15;6:36997. doi: 10.1038/srep36997. PMID: 27845367
2) Analysis of the Physiological Activities of Scd6 through Its Interaction with Hmt1. Lien PT, Izumikawa K, Muroi K, Irie K, Suda Y, Irie K. PLoS One. 2016 Oct 24;11(10):e0164773. doi: 10.1371/journal.pone.0164773. PMID: 27776129
3) Different Regulations of ROM2 and LRG1 Expression by Ccr4, Pop2, and Dhh1 in the Saccharomyces cerevisiae Cell Wall Integrity Pathway. Li X, Ohmori T, Irie K, Kimura Y, Suda Y, Mizuno T, Irie K. mSphere. 2016 Sep 28;1(5). pii: e00250-16. PMID: 27704052
4) The Saccharomyces cerevisiae AMPK, Snf1, Negatively Regulates the Hog1 MAPK Pathway in ER Stress Response. Mizuno T, Masuda Y, Irie K. PLoS Genet. 2015 Sep 22;11(9):e1005491. doi: 10.1371/journal.pgen.1005491. PMID: 26394309
5) Evaluation of an Epitypified Ophiocordyceps formosana (Cordyceps s.l.) for Its Pharmacological Potential. Wang YW, Hong TW, Tai YL, Wang YJ, Tsai SH, Lien PT, Chou TH, Lai JY, Chu R, Ding ST, Irie K, Li TK, Tzean SS, Shen TL. Evid Based Complement Alternat Med. 2015;2015:189891. doi: 10.1155/2015/189891. PMID: 26451152
6) Pbp1 is involved in Ccr4- and Khd1-mediated regulation of cell growth through association with ribosomal proteins Rpl12a and Rpl12b. Kimura Y, Irie K, Irie K. Eukaryot Cell. 2013 June;12(6):864-74.
7) Stau1 regulates Dvl2 expression during myoblast differentiation. Yamaguchi Y, Naiki T, Irie K. Biochem Biophys Res Commun. 2012 Jan 6;417(1):427-32.
8) RNA-binding protein Khd1 and Ccr4 deadenylase play overlapping roles in the cell wall integrity pathway in Saccharomyces cerevisiae. Ito W, Li X, Irie K, Mizuno T, Irie K. Eukaryot Cell. 2011 Oct;10(10):1340-7.
9) Stability control of MTL1 mRNA by the RNA-binding protein Khd1p in yeast. Mauchi N, Ohtake Y, Irie K. Cell Struct Funct. 2010;35(2):95-105.
10) hnRNP K interacts with RNA binding motif protein 42 and functions in the maintenance of cellular ATP level during stress conditions. Fukuda T, Naiki T, Saito M, Irie K. Genes Cells. 2009 Feb;14(2):113-28.
11) Distinct roles for Khd1p in the localization and expression of bud-localized mRNAs in yeast. Hasegawa Y, Irie K, Gerber AP. RNA. 2008 Nov;14(11):2333-47.
12) Stau1 negatively regulates myogenic differentiation in C2C12 cells. Yamaguchi Y, Oohinata R, Naiki T, Irie K. Genes Cells. 2008 Jun;13(6):583-92.