Student Life

First, could you tell us about your studies here?
I'm in the PhD course in the department of Neurosurgery. My research is devoted to the treatment of brain tumors using X-rays and gold nano-particles. Tumor cells can accumulate gold in the form of nano-particles, and when irradiated with X-rays of a certain energy range the gold atoms can produce additional local radiation, enhancing the effect of radiotherapy.
I believe these mechanisms can be used in the development of new drugs for combination therapy to cure cancer and extend the lives of patients.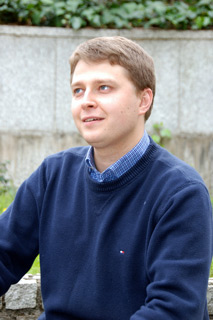 Why did you come to Japan to study?
In my country I was doing research on brain tumor treatment using lasers and special drugs called photosensitizes. When I saw a poster on the G30 scholarship I decided that it would be a very good opportunity for me to realize my cancer treatment ideas doing research in Japan.
I applied and was really happy to come to Tsukuba. There are a lot of research opportunities at this university – at our research center and in other laboratories I can work with equipment that I only read about in books when I was a student.
What are your plans after you finish the degree program?
I devote all my time here to research and I am so interested in it that I would like to continue to study and do research on cancer treatments after I graduate.
How do you like it here?
People are very friendly in Japan and especially in Tsukuba, as there are many foreigners here. And there's no problem getting help and answers to almost any question if you are in trouble.
The laboratory personnel are also very helpful. I practice karate in the medical student karate club and I met many friends there. I enjoyed travelling in Japan as I can visit so many beautiful places. I really love Japan.
Full Name: Alexander Zaboronok
Nationality: Belarus
Position/Year: PhD course, 3rd year
Field of study/Major: Neurooncology, Neurosurgery
Educational background: Belarussian State Medical University (1998 - 2004), Clinical Residency in Neurosurgery,
 worked as a neurosurgeon at the Department of Neurosurgery, Minsk City Clinic N9, Minsk, Belarus
 In April 2008 came to Japan.