Student Life

Could you describe your studies?
I'm a 1st year doctoral student in the department of clinical trial and clinical epidemiology. In my master's program I studied visceral leishmaniasis, also known as kala-azar, one of the most neglected tropical diseases (NTDs) carried by sandflies.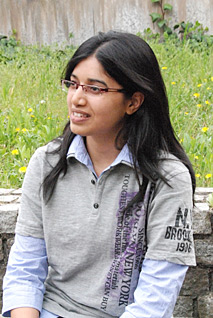 I studied ways of using Neem oil to control the sand flies and therefore the disease that way. Now, in my doctoral program I'm studying childhood tuberculosis.
When I finish my PhD, in four years, I plan to return to Bangladesh and work as a researcher.
Why did you choose the G30 program?
As the language of instruction in the G30 program is English, I found it convenient to study here.
What do you think of Tsukuba, and Japan?
It's great, very beautiful – I love the sakura and momiji, and it's so calm and quiet here. The people here are so kind and helpful – I don't speak Japanese well, but whenever I go out, I know I'm happy to be here, very comfortable.
On my time off there are parties, and we go outdoors, to Mt Tsukuba, Kasumigaura Lake, and shopping. I've also done some travelling, to Hiroshima, Osaka and Toyama.
Full Name: Farhana Ferdousi.
Nationality: Bangladesh.
Position/Year: 1st year Doctoral student (D1) of  Doctoral Program in Clinical Sciences.
Field of study/Major: Clinical Trial & Clinical Epidemiology.
Educational background: Bachelor of Medicine & Bachelor of Surgery (MBBS) - Mymensingh Medical College, Bangladesh.
Master of Public Health (MPH)- University of Tsukuba, Japan