Genetically Modified Mice (GMM) provide understanding of in vivo gene function. The Laboratory Animal Resource Center (LARC) to which our lab belong is one of the biggest GMM production institutes in Japan. We produce around 100 novel GMM strains per year by precision embryo and stem cell manipulation skill and newest gene modification technique.

Since 2013, we started GMM production with CRISPR/Cas9 system. With this system, we have produced many genome edited mice carried precise point mutation, large deletion, fluorescence gene Knock-in, and genetic humanized alleles.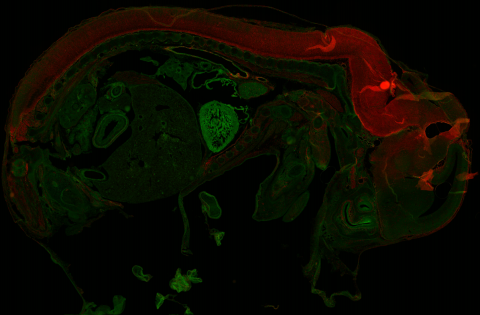 The conditional Knock-out (cKO) technique enable tissue and/or time specific gene deletion in vivo. The Cre-LoxP is the most commonly used system for cKO experiments. The gene region between two inserted loxP sites, called flox region, is looped out from the chromosome by Cre enzyme dependent manner. So, it is very important to recognize where and when Cre recombination happen in each Cre-driver mouse strain.

We developed a new Cre-Reporter mouse and named it GRR mouse. The GRR mouse greportsh the Cre recombination in vivo by two different fluorescence colors. With this mouse, we are developing the Cre recombination atlas.

Furthermore, we are now developing the bicistronic Cre driver mouse using with CRISPR/Cas9 system.

related papers1, 2, 3
Spontaneous mutations rarely arise in laboratory mouse clonies. Identifying the causative genes for abnormal phenotypes in spontaneous mutants helps uncover molecular mechanisms of various diseases. This study model is called forward genetics.
In our lab, we discovered three new gene functions from spontaneous mutant mouse strains by forward genetic approach. (i)TAS mouse. TAS shows agenesis of the corpus callosum and repetitive action. The causative gene for these phenotypes is
Cables1
. (ii)Moja mouse. Moja shows long hair by exon3 of
fgf5
deletion by spontaneous transposon insertion. (iii)WS mouse. Surprisingly, WS carried approximately 1.2 Mb spontaneous deletion mutation. WS hetero mutants show white spotting in their ventral body, and WS homo died in early embryonic (blastocyst) stage. Now, we are investigating molecular mechanisms in these mutants.

related papers
1
,
2
,
3
,
4
,
5