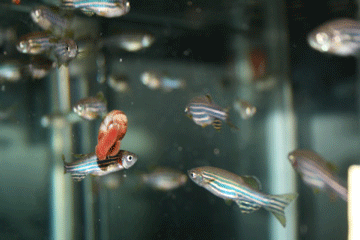 ↑zebrafish (red, snail the fish tank cleaner)
Our lab is currently focusing on molecular mechanisms regulating defense against a variety of stresses, such as electrophilic stress, oxidative stress, ER stress, and so on. The other major focus in the lab is how cell fate decisions are made, especially in the case of hematopoietic lineages.
We are using zebrafish as a model organism that has been shown to be useful for developmental, genetic, toxicological, physiological and imaging studies. The zebrafish offers several advantages in molecular biological studies, e.g., easy knockdown of individual genes, clear in vivo visualization of fluorescent proteins and imaging probes, rapid generation of stable transgenic lines.