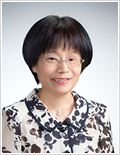 The Master's Program in Nursing Science develops educators/ researchers that can take leading roles in nursing and as advanced professionals that possess the ability to practice nursing based on scientific basis with academic as well as global perspectives and determination to devote themselves to their duties as researchers.
This major provides training education for maternity nurses. With education and research, we also help to build the foundations of the ability to transmit the achieved results with global standards both within and outside of the country.
We wish the major of nursing science to be an interdisciplinary and international major that "looks towards the future". While vitalizing the interchanges of students as well as teachers with research and education between schools with academic agreements, we also would like to focus on realistic issues that exist with health conditions and the everyday lives of people. Our aim is to support approaches for their solutions through education and research activities in the nursing science major.
Join us to learn together in the major of nursing science and become leaders in the future of nursing.
Michiyo Mizuno